Japanese Companies in Vietnam
Benkan have a mission "We propose reliable lifeline system through the development and provision of plumbing materials, constantly envisioning a future for all users worldwide" but we think that still have lots more to work on to propose our values. We have many countries that we have not visited by looking towards overseas. Of course there is a difference in economy and culture, it will cause "product out" if we bring in a product or a service like in Japan. Therefore, we (overseas sales section) are working on to find a new market in countries those have close relationship with Japan or Benkan Corporation.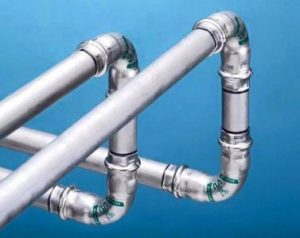 Benkan have a production base called BV1 factory in Vietnam. So far the products from BV1 factory are mostly exported to Japan. However, those products are manufactured by Vietnamese staffs so we have a feeling that those products should be used in Vietnam.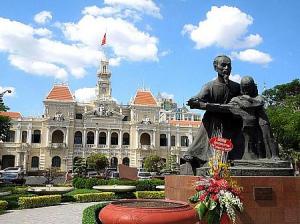 Vietnam is located at Southeast Asia with the population of 91,700,000 (12th in the world). Average age is 27 years old (Japan is 45years old) which makes this country energetic. Recently, modernization of the country is growing fast by the economic development of the cities such as Ho chi minh and Hanoi. Besides, development of infrastructure made a lot of Japanese companies to expand overseas and Benkan is one of those.
Benkan is planning to distribute the products manufactured in BV1 factory through Vietnam by cooperating with those Japanese companies in Vietnam.
Metal One (Vietnam) Company Limited
Metal One Vietnam is a branch company of Metal one corporation which is a company of general trading company of steels. They are general trading company which provides pipes, fittings and bulbs for the construction of plants. Their strength is wide knowledge and information to propose reliability of Japanese products. Especially, the difference between Japan is the difficulty of supplying high quality product and they are highly esteemed by the Japanese contractor. Also, the attitude of their business is increasingly esteemed by the local users. We need to understand more about the local situation but we able to supply smoothly through the good offices of Metal One Vietnam.
Metal One (Vietnam) Company Limited
| R.1606,16F Sunwah Tower,115 Nguyen Hue St.,Dist 1,HCM City,Vieynam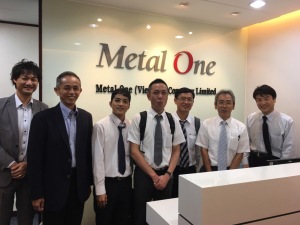 VINA TAK CO., LTD
VINA TAK is the branch company of TAK Manufacturing Co. Ltd which is the prefab piping manufacturer with the top technology in Japan. Their mission is to decrease construction period with high safety and decreasing costs. Benkan has mechanical joints for smaller size piping system but VINA TAK is trying to manage larger size piping system by prefab piping. Generally, you need to weld at the construction sites to connect larger size pipes. However, there are many troubles occur because of the less skillful worker for pipe welding. Time for people to understand the prefab piping system are necessary but increasing demand is expected and the value of this system is definitely highly recommended more than Japan.
VINA TAK CO., LTD
| Road 4B Nhon Trach Industrial Zone 1 Phu Hoi-Nhon Trach-Dong Nai-VieyNam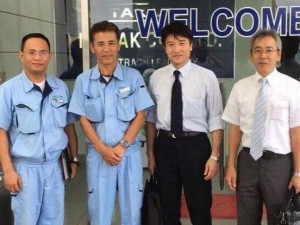 TOSTE VIETNAM CO., LTD
TOSTE VIETNAM is a branch company in Ho chi minh of TOSTE Corporation and they handle design, construction, maintenance, sanitary products, stainless steel flange, welding fittings and screw fittings. It hasn't being long since they have started their business in Vietnam but they are increasing their job reference based on their recognition of high quality references in Japan. Their main reference is for Japanese food, medical, cosmetic and semiconductor company's factories. Recently, as they showed their skill by their references, their business from the local companies are increasing.
TOSTE VIETNAM CO., LTD
| Rental Factory 5-1,Road N3-2,Long Duc Industrial Park,Long Duc Ward,Long Thanh District,Dong Nai Province,Vietnam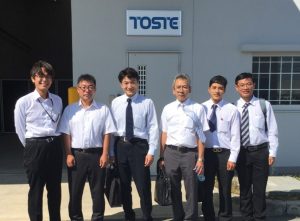 Japanese companies in Vietnam which we introduced this time are facing totally different situation than Japan but they all have great ambitions. I am always fascinated and stimulated by their power every time I see them. Thank you and we will keep on challenging towards our dream that the every building in Vietnam is built by using BENKAN products.
Overseas Sales Section
Manager
Koji Asada