Fitting For Light gauge stainless steel tubes for ordinary piping: press-type fitting
Product Summary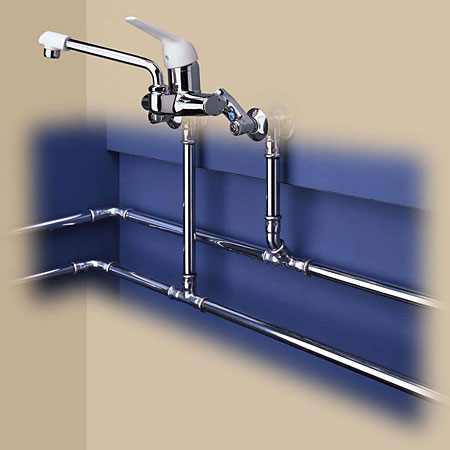 Molco Joint is a mechanical joint compatible with light gauge stainless steel tubes for ordinary piping.
Formerly, stainless steel plumbing was expensive, required a special set of technical skills and equipment for installation, and therefore was only used at plants with particular needs and hospitals. Press-type fitting was originally developed in Sweden and Germany and has been adopted in dozens of countries for a half century, establishing its position as a universalized system.
In Japan, since its release in 1975, Molco Joint has served various purposes as hot and cold water supply, air conditioning in various houses, malls and office buildings.
Structure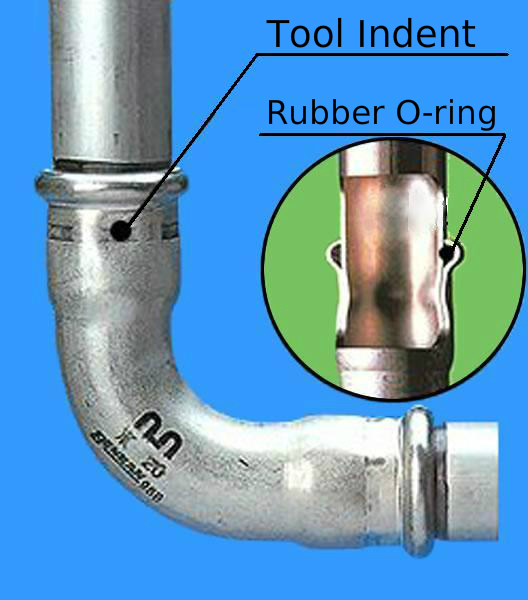 The joint body is made from stainless steel (defined in Japanese Industrial Standards as SUS304, SUS316).
IIR(Isobutylene Isoprene rubber) is used for the sealing ring attached inside the joint end. To obtain a consistent, sufficient strength and watertightness, insert the pipe to an adequete depth, and use our authorized press tool for installation.
Features
Molco joint is a product made from stainless steel, a material "highly durable", "human-friendly" and "eco-friendly".
Advantages of using Molco joint are:
The authorized press tools ensure the consistent installation quality.
Requires no welding work in installation, best suited for renovation.
The cost is reasonable for a stainless pipe.
Specifications
Compatible

Pipes

Light gauge stailess steel pipes for ordinary piping (JIS G 3448), Light gauge stailess steel pipes for water work (JWWA G 115)

Usage

Cold water, hot water, coolant water, cold/hot water and others

Unavailable for steam plumbing.
For use in piping systems for compressed air, ozone, inert gas, pure water, anti-freeze solution.
For vegetable oil, the requirements may vary so please contact us for further details.

Working

Pressure

1.0MPa(10.2kgf/?)

Working

Temperature

Below 80℃
Installation
Click to Enlarge
Certification
Installation
* This is a brief guidance. For further details, please read the installation manual.
* Please be sure to complete our installation workshop before construction.
STEP1

Cut the pipe


Cut stainless pipes (JIS 3448 standard) with a cutting tool (preferably with a rotary cutter to obtain a smooth cut surface without burrs).

STEP2

Remove burrs


Please be sure to remove burrs if thares any around the cut surface, using a remover or file.

STEP3

Mark the insertion length on the pipe


Mark the insertion length on the pipe, using the water-proof marker pen and line marker (both included in our authorized press tool kit).

STEP4

Insert the pipe into the joint


Insert the pipe fully into the joint until the mark reaches the joint end. If insertion is difficult, check for remaining burrs or deformations of the pipe, and please be sure to remove or cut them not to damage the rubber ring inside the joint.

STEP5

Press the joint


Press the joint with the authorized press tool.

STEP6

Check


Apply the hexagonal gauge (included in our authorized press tool kit) to the pressed part of the joint and check if it is properly installed.
Please do NOT use any press tools not authorized by BENKAN corporation for installation of Molco Joint, as it may cause leakage and other fatal problems.
Electro-hydraulic Press Tools Authorized by BENKAN Corporation
BPD-08
For small diameters (13Su, 20Su, 25Su).
Requires external power supply.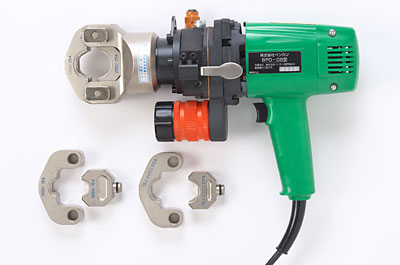 BPD-15R
A portable battery-powered model for small diameter (13Su, 20Su, 25Su).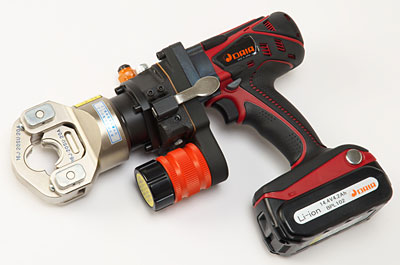 BPD-11
For larger diameters (30Su, 40Su, 50Su). Requires external power supply.