Light gauge stainless steel tubes for ordinary piping JIS G 3448 TDP-A-HT
Product Summary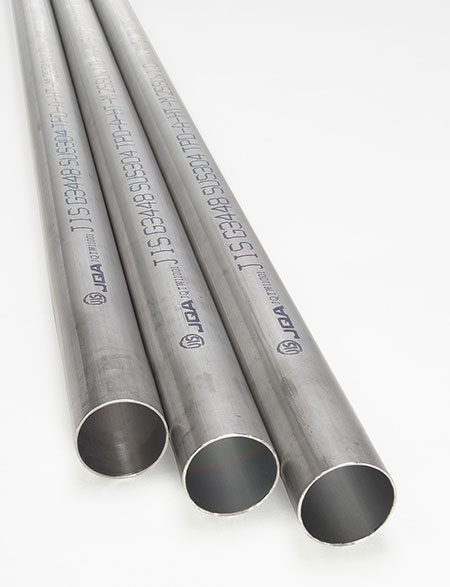 SU Pipe (Light gauge stainless steel tube for ordinary piping JIS G 3448 TPD-A-HT) is a light gauge stainless steel tube for ordinary piping and compatible with our mechanical joints for stainless steel piping systems.
Formerly, stainless steel plumbing was expensive, required a special set of technical skills and equipments for installation, and therefore was only used at special plants and hospitals.
Light gauge stainless steel tubes for ordinary piping succeeded in reducing the production cost by making it thinner (almost 1/3) than conventional stainless pipes.
Despite its thin wall, the light gauge stainless steel tubes are not only highly resistant to corrosion and shock but also hygienic and able to reduce the total weight of the piping system. Especially, our SU pipe has a superior resistance to corrosion by applying solution heat treatment, in addition to the necessary processes to meet the Japanese Industrial standard. It is well-suited to our mechanical joints.
As it meets the criteria for the ordinary buildings, SU pipe has been used mainly for the water supply, hot water supply, and air conditioning sytems in houses, apartments and office buildings. Recently, demand for piping systems in industrial plants are increasing.
Features
Corrosion Resistance
Stainless steel tubes are highly resistant to corrosion and related issues, such as tubercles often formed in conventional zinc-plated iron tubes. Those tubercles obstruct the water flow. However, Benkan's SU pipe is free from such problems, and its corrosion resistance is enhanced by applying solution heat treatment, which is an extra process not included in the Japanese Stainless standard (based on the results of our experiments).
Shock Resistance
Stainless steel tubes also have a high resistance to shocks which is almost twice as tough as zinc-plated iron tubes and three times as tough as copper tubes. Therefore, nothing to worry about the pipe breakage at construction sites.
High Hygiene
Stailess steel has been adopted into the kitchen equipments, Food industries, dairy farming industries and medical equipments for many years . This proves enough hygiene safety. Different from galvanized iron tube, stainless steel tube will not generate rusty-water neither green-water.
Light Piping System
Based on the advantages of stainless steel, enabled 1/3 of wall thickness than zinc-plated iron tubes. This feature minimizes its weight which enables easy transportation and installment.
Scope
Cold water, hot water, drainage, cold/hot water, water for extinguishing fires, and others.
Maximum Allowable Pressure
◇2.0MPa.(Double Press)
◇1.0MPa.(Molco Joint)
*Please also refer to the maximum pressure resistances for the mechanical joints you use.
Production Method
Automatic Arc Welding
Certification
JIS G 3448 TPD-A-HT
TPD(Tube Pipe Domestic)…Ordinary Piping
A…Automatic Arc Welding
HT…Heat-treated
Dimension Chart
Nominal diameter (SU)
OD(mm)
Thickness(mm)
Weight(kg)
Length(mm)
Standard size
Tolerance
Standard Size
Tolerance
13
15.88
0
-0.37
0.8
±0.12
1.20
4,000
20
22.22
1.0
±0.12
2.12
25
28.58
1.0
±0.12
2.75
30
34.0
±0.34
1.2
±0.12
3.92
40
42.7
±0.43
1.2
±0.12
4.96
50
48.6
±0.49
1.2
±0.12
5.68
5.60
60.5
±0.60
1.5
±0.15
8.80
※The weight is per unit (4m).
REMINDER
-We do not assume any liability or responsibility for any loss or damage arising from inappropriate installation.