Unique high education institution in Vietnam
Let us introduce College of Urban Works Construction. College of Urban Works Construction is a national university located in Ha Noi, Vietnam. They are a very curious institution of high education since they devote themselves to the technology of the building facility, mainly specialized in air conditions, sanitary conditions, electricity.
This occation, College of Urban Works Construction introduced Benkan's stainless steel plumbing system to the education course of sanitary conditions.
They are prestigious university as they participated in the "World Skills Competition" held in Sao Paulo, Brazil in year 2015 as a national team from Vietnam
http://www.worldskillssaopaulo2015.com/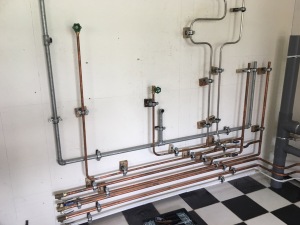 "World Skills Competition" is held in every 2 year, then many national teams from more than 50 nations participate and compete their own echniques
It is just like Olympic games
This year, the compatition will held in October in Abu Dhabi, United Arab Emirates.
And College of Urban Works Construction enters a competition as Vietnam national team again.
https://worldskillsabudhabi2017.com/en/
[Click Thumbnails to Enlarge]
We are very proud of our plumbing system because such great university acknowledged the good performance of our system and selected us.
According to the university president, Mr BUI HONG HUE, in an interview,
"Everyday, College of Urban Works Construction is studying rapidly‐advancing technology for building utility so hard
We confidently believe that the demands of Stainless plumbing system will steadily rise from the viewpoint of its durability and hygiene
Benkan manufactures the products in Vietnam for stainless steel plumbing system.
By taking in "Most advanced Japanese technology which manufactured in Vietnam", College of Urban Works Construction will contribute to the industrial development of the construction in Vietnam
Thank you so much for your nice words Mr BUI HONG HUE. We are so glad to hear that.
Our devotion to studying and development to match market needs will ever continue, and make the further contributions friendly relations between Japan and Vietnam.
Overseas Sales Section
Manager
Kouji Asada